OFFERS
4
properties meet your criteria:
Town:
Sofia
Information on the city of Sofia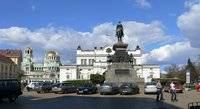 Founded seven thousand years ago, Sofia is the second oldest city in Europe. It has been given several names in the course of history and the remnants of the old cities can still be seen today. Serdika was the name of the central dwelling of the ancient Thracian tribe known as "Serdi". It bore that name when it became part of the Bulgarian state at the beginning of the ninth century and was soon recognised as one of the most important feudal...
Find out more