Property N 00014: Investment project in Kosharitsa village, next to Sunny beach resort
INVESTMENT PROJECTS, Kosharitsa
Property Request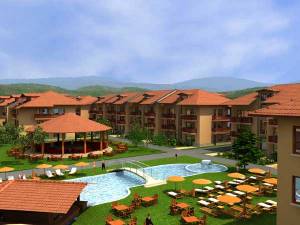 Location
:
Kosharitsa
, Village (
MAP of location
)
Road
: Asphalt road
Status
: For sale
Description
AIB-Kosharitsa
Total area – 32464 square metres
Built up area – 8827,71 square metres
Residential area including basement – 35709 square metres
KINT – 1.1
Density – 27%
Planting & grassing – 50%
About the region
Kosharitsa is a small village, situated in Nessebar municipality, in the region of Bourgas. It has a very good location, just 4 kilometres away from the lively Sunny Beach Resort. The picturesque village is beautifully nestled at the foot of the Emine Balkan, part of the Old Mountain Balkan Range. It reveals unforgettable views towards the mountain and at the same time its close proximity to the sea and the lovely beaches of Sunny Beach makes it a perfect place for a relaxing summer holiday. าhe project envisages the construction of five types residential buildings,a hotel with swimming pool, a restaurant, a water bar,เ stage and a discotheque.
Total residential area (excluding garages) is 35709 sq.m.
Price of the plot & project 35709. 150 = 5 356 350 EUR
Price for construction 35709. 450 = 16 069 050 EUR
Planting, grassing, due arrangements = 1 000 000 EUR
Total expenses = 22 425 400 EUR
Unforeseen expenses 10 % = 2 242 540 EUR
EXPENSES = 24 667 940 EUR
Presumed min sale price 35709. 1000 =35 709 000 EUR
GAIN 44,75% =11 041 060 EUR
Amenities
Gallery