Property N 00020: Apartments in Prespa Complex, Bansko ski resort
1-BEDROOM APARTMENTS, Bansko
Property Request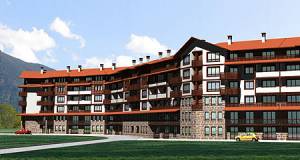 Location
:
Bansko
, Town (
MAP of location
)
Price per sq. m.
: 1250 EUR
Road
: Asphalt road
Status
: For sale
Description
Location: Bansko, 15 min from Gondola Station, 9 minutes walk from the authentic Bansko Centre. Prespa is plunged in the spirit of more than 500 years old Bansko, crystal clear air touched with the fresh fragrance of the evergreen pine-tree and extremely beautiful nature.
Completion: August 2007. This development offers an ideal investment property.
Description: 134 luxury apartments (11 four-rooms, 55 three-rooms, 52 two-rooms, 15 one-room) in a prime location only 5-minutes walk to Gondola lift station. All apartments afford a beautiful mountain view of Pirin or Rila Mountain.
The Complex: The complex stands on an area of 10,710 square meters.
Relaxation centre: including swimming pool, sauna, gym, relaxation room and massage, steam bath, Jacuzzi, restaurant, ski- and boots- wardrobes, internet club, shop, parking space.
Price: From 1150 EUR to 1350 EUR
Property management and letting through Tour Operator: These properties have exceptional rental potential. We will shortly have a contract with AlmaTour Tour Operator for the 2007/2008 ski season. We anticipate gross rental returns of about 6% p.a. The maintenance of the common property, such as garden together with the security of the premises, is taken care of by professional staff. According to your wish, the staff can make all necessary preparations for your arrival and be available throughout your stay.
We regard this development as suitable for investors as it is easy and safe and quick to transact and the returns will be good. If you wish your home to bring you additional income while you are away, you can make use of the proposed agreement between Tour Operators and the developer. There will be a property management and letting charge set at 30% of gross rental income.
Details:
Completely finished apartments (unfurnished)
Parking spaces, gardens, all walled
Bansko resort is object of massive investment and 2014 Olympic Candidate
Sauna, gym, relaxation room and massage
Swimming pool
Restaurant
Traditional architectural style
Excellent rental income
Ideal for holiday letting during both the ski season and summer rural holidays
Most apartments with terraces
Fully fitted bathroom
Italian terracotta floor tiles throughout
24 hours concierge and private security parking
Special furnishing service
Near Pirin National Park

Activities: skiing, snowboarding, extreme skiing, riding, walks in Pirin National Park, bathing (hot mineral water springs nearby), restaurants, sightseeing.
PRESPA – FACILITIES
Fireplace
Gym
Sauna
Steam bath
Massage
Jacuzzi
Ski wardrobe
Ski boot wardrobe
Restaurant
Shop
Internet club
24 hours concierge
Private security parking

Services are provided for EUR 7 per sq. m. annually. These cover maintenance of the building, incl. electricity and water systems and roof, cleaning public areas, gardening, payrolls of staff. They exclude private utility usage, insurance, local taxes, rental management fees.
For our good business relations we would like to receive the reservation fee within 2 days after the reservation and the first installment from the total price according to the preliminary contract within 10 working days after signing the contract, but no later than 4 weeks after the reservation date. Price of the apartments is VAT inclusive. All apartments come with free kitchen furniture included in the price. PURCHASING PROPERTY IN OUR DEVELOPMENTS IS FREE OF ANY EXTRA CHARGES. YOU HAVE TO PAY ONLY THE PRICE STATED BELOW.



| | | | | |
| --- | --- | --- | --- | --- |
| Section | floor | apart | price per sq.m | price |
| Section:C | 2 | PR-C-2-07 | 1250 EUR | 83083 EUR |
| Section:C | 4 | PR-C-4-19 | 1250 EUR | 86986 EUR |
| Section:D | 2 | PR-D-2-07 | 1250 EUR | 120110 EUR |
| Section:D | Penthouse | PR-D-P-29 | 1350 EUR | 107177 EUR |
Amenities
Gallery