Property N 61: Big house for sale in Smolnik with huge yard
HOUSES AND YARDS, Smolnik
Property Request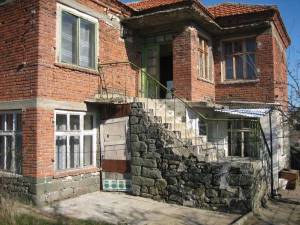 Location
:
Smolnik
, Village (
MAP of location
)
Price
:
EUR:
35000
Yard
: 4895 sq. m.
Area
: 80 sq. m.
Road
: Asphalt road
Status
: For sale
Description
Smolnik is a large seized village situated 52km to the west from the city of Burgas and the Black sea which means 35min by car. It is 12km away from a big city named Karnobat. There is a primary school, a health center, shops, a cafe, a restaurant in it.
There are real estates in this village that have already been bought by foreigners.
This big house has two floors. Each is 40sq.m.. They both are the same situated and has three rooms each with a corridor. The house also has a basement. The yard is huge 4895sq.m. and there is one fram building in it which is 40sq.m. 35 000 euro.
Amenities
Gallery