Property N 00007: Villa complex "Boliarka" gives an opportunity to realize your dream for a holiday during the weekend or a vacation far from the stuffy town in a magnificent villa, located in a recess of paradise of Rhodop Mountains – the area Glavatartsi
HOUSES AND YARDS, Glavatartsi
Property Request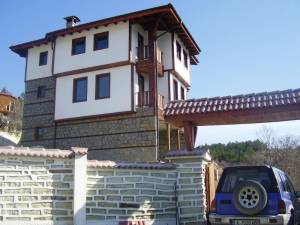 Location
:
Glavatartsi
, Village (
MAP of location
)
Road
: Asphalt road
Status
: For sale
Description
The complex "Boliarka" is situated on the coast of the lake "Kardjali" in the area of Glavatartsi – one of the most beautiful places of Rhodop Mountains.
7 km away from the centre of the town of Kardjali
20 km from the medieval complex PERPERIKON
35 km away from the sanctuary of Thracians – TATUL
40 km away from the Devils bridge near town of Ardino
50 m away from hotels "Glavatarski Han" and "Triffon Zarezan"
80 km away from The Aegean Sea
100 km away from Pamporovo - one of the top ski areas of Bulgaria

The favorable locality and the proximity to the both hotels, which permits the usage of their base (restaurant, pool, bar etc.) as well as the luxury realization of villas in the complex "Boliarka" make your decision an unbelievable opportunity for good investments
Villas will be built in compliance with all European standards and requirements and for their building will be used materials with highest quality. Constructing permission for building No 60 dated 30.03.2006.
Additional extras to the villas:
chimney-piece
air-conditioning
solar collectors
own courtyard
steam shower
property management and maintenancee

Payment plan A
ˆ1000 reservation fee (deducted from the final price, but if no purchase occurs, not refundable), that removes your apartment from the market in 2 weeks
25% deposit at preliminary contract
25% installment payable upon completion of the foundations (have to be paid in a month after the first installment)
30% installment payable upon completion of the rough building
20% installment payable upon transfer of ownership
Payment plan B
ˆ1000 reservation fee (deducted from the final price, but if no purchase occurs, not refundable), that removes your apartment from the market in 2 weeks
30% deposit at preliminary contract
30% installment payable upon completion of the foundations (have to be paid in a month after the first installment)
25% installment payable upon completion of the rough building
15% installment payable upon transfer of ownership
PRICES IN COMPLEX BOLIARKA
VILLA

Total Size
(ì 2 )
Price (ˆ)
Description
Availability

VILLA ¹ 1

208,90
ˆ 750/m2
4 bedrooms, 4 bathrooms, living room, kitchen,WC,lumber room,3 balcony
SOLD
VILLA ¹ 2
202,95
ˆ 750/m2
4 bedrooms, 4 bathrooms, living room,kitchen,WC,lumber room,3 balcony
BUY
VILLA ¹ 3
110
ˆ 750/m2
2 bedrooms, 2 bathrooms, living room,kitchen,WC,lumber room,2 balcony
SOLD

VILLA ¹ 4

110
ˆ 750/m2
2 bedrooms, 2 bathrooms, living room,kitchen,WC,lumber room,2 balcony
BUY
VILLA ¹ 5
110
ˆ 750/m2
2 bedrooms, 2 bathrooms, living room, kitchen,WC,lumber room,2 balcony
BUY
VILLA ¹ 6
110
ˆ 750/m2
2 bedrooms, 2 bathrooms, living room,kitchen,WC,lumber room,2 balcony
SOLD
VILLA ¹ 7
111
ˆ 750/m2
2 bedrooms, 2 bathrooms, living room,kitchen,WC,lumber room,2 balcony
SOLD
Amenities
Gallery